145 Dawes Road, Fulham, London, UK, SW6 7EB
or click on
Leaflets on PNI
 for more information about PNI.
The work of the Association is essential as post-natal illness affects between 70,000 and 100,000 women and their babies in the UK every year. It is rightly called 'the silent epidemic'.
---
Emma Cadywould and Family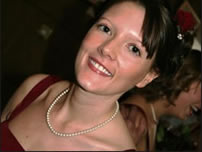 Lucie Holland has raised over £4,000 during the past two years on her Just Giving page set up in memory of her sister Emma Cadywould. Emma's family, in particular Lucie, and her parents Mr and Mrs Holland and have been very generous contributors to the work of the Association and our profound thanks go to the whole family for their generous donations and fundraising efforts. Emmsie's friends have also been busy raising money in her memory.
http://www.justgiving.com/MysisterEmma
The picture shown is of Emma.