The Association for Post-Natal Illness is the leading organisation in its field. It is a Registered Charity (No. 280510) and it was established in 1979 to:
Provide support to mothers suffering from post-natal illness
Increase public awareness of the illness
To encourage research into its cause and nature
Easter Opening Hours:
Please note: We will be closed from 2pm on Tuesday 15th and will re-open on Monday 28th April at 10am. If you really need to speak with someone on the phone during this period then please note the phone numbers for The Samaritans, Pandas and Family lives at the bottom of this page.
The Association provides a telephone helpline, information leaflets for sufferers and healthcare professionals as well as a network of volunteers (telephone and postal), who have themselves experienced postnatal illness. For a printed information pack send a s.a.e. to:-  145 Dawes Road, Fulham, London, UK, SW6 7EB or click on Leaflets on PNI for more information about PNI.
The work of the Association is essential as post-natal illness affects between 70,000 and 100,000 women and their babies in the UK every year. It is rightly called 'the silent epidemic'.
---
Emma Cadywould and Family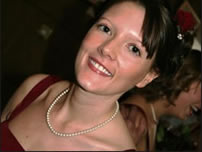 Lucie Holland has raised over £4,000 during the past two years on her Just Giving page set up in memory of her sister Emma Cadywould. Emma's family, in particular Lucie, and her parents Mr and Mrs Holland and have been very generous contributors to the work of the Association and our profound thanks go to the whole family for their generous donations and fundraising efforts. Emmsie's friends have also been busy raising money in her memory.
http://www.justgiving.com/MysisterEmma
The picture shown is of Emma.