Association for Post-natal Illness History
In 1979 when Clare Delpech was suffering from post-natal depression she read a book by Professor Merton Sandler about Mental Illness in Pregnancy and the Puerperium and she contacted him. Professor Sandler encouraged Clare to set up a self-help group for women suffering from post-natal depression with many safety features in place as the women who contacted the organisation would be unwell and vulnerable.
Clare wrote a constitution for the organisation which was accepted as a charity by the Charity Commission. The founding Committee were Professor Merton Sandler as President, Mr John Malvern, Chairman, Mrs Lindsay Warwick Gee, Mrs Sarah Evans, Treasurer, Dr Michael Pearson, Dr Gilli Oppenheim and Clare Delpech, Secretary.
With the help of the psychiatrist Dr Gilli Oppenheim and Professor Sandler the first publications were written and very carefully edited so that they would not cause alarm to their readers. The publications The Baby Blues and Post-natal Depression and Post-natal Depression have both been updated but remain essentially the same. They are intended to inform without alarming the women who read them.
At the outset Clare and her husband Roger answered the mail and phone for the organisation assisted during busy periods by their nextdoor neighbour Mrs Blanche Coleman. Quite soon this work became a heavy burden and a group of volunteers came to Clare's house to help. These ladies included Mrs Jennie Paulson-Ellis, Mrs Victoria Lehmann and Mrs Sue Codling all of whom helped with the increasing administration.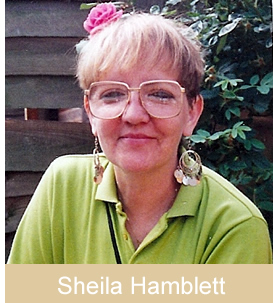 In 1981 some space was found at Queen Charlotte's Hospital and Mrs Victoria Lehmann ran the Association administration from this base. She was helped by Mrs Carmal Spreadborough and in 1983 they were joined by Mrs Sheila Hamblett . Sheila and Victoria made our work more systematic with everything filed and ordered. This professional approach to administration was just what we needed and Sheila continued to organise and innovate throughout her time with the Association.
In 1984 the organisation moved back to 7 Gowan Avenue as Queen Charlotte's needed the office space. Soon after we were joined by Mrs Diane Nehme who has been with us ever since and is now the charity Secretary.
In 1985 our fund raiser Mrs Pam Collins received an answer to one of her appeals from the Mr and Mrs J. A. Pye's Charitable Settlement. This letter was accompanied by a cheque for £5,000 which was a fantastic boost to our funds. The Trustees of the Mr and Mrs J. A. Pye's Charitable Settlement have been wonderful in their support of the work of our organisation since that date. Mr Graham Pye and Mr David Tallon have offered expert advice and kept in touch with the Association over many years. Mrs Mary Pye took an active interest in the work of the Charitable Settlement set up in the name of herself and her husband. Mrs Pye was very interested in our work particularly as she lost her daughter Jacqueline to the illness in 1976. Mrs Mary Pye died in 2007. Mr Simon Stubbings has also kept a close eye on our activities over many years and been a good friend to the Association.
From 1987 the Association promoted and distributed copies of the Edinburgh Post-natal Depression Scale to G.P.s and Health Visitors. This scale had been proved to be an easy quick and reliable diagnostic tool for post-natal depression and we were keen to encourage its use around the country.
From 1986 to his death in 1988 Mr Jackson Liell appealed for funds on behalf of the Association. He had many successes and some of the donors he found are still supporting our organisation. Following his death Mrs Ginty Liell took on the role and remained our fund raiser for some years.
In 1989 the Association ran a Symposium on the subject of Post-natal depression jointly with Birthright. The Symposium was sponsored by the Mr and Mrs J. A. Pye Charitable Settlement. It was held at the Royal College of Obstetricians and Gynaecologists and around 400 people attended the event.
The meeting generated a lot of publicity in the media and the Association was able to recruit many more volunteers as a result.
In 1990 Ms Marian McDonagh joined the staff. Marian is a lovely person and became very popular with the women she helped. In November 1991 the office moved to much better accommodation than Clare's dining room, at 25 Jerdan Place in Fulham. Soon after the move we were joined by Mrs Jan Cummins. After training Jan and Marian worked as a team and were both very highly valued in the organisation. Jan and Marian both stayed with the Association for many years and were much liked by the women who contacted us and the other staff. Jan also became our Appeals Secretary on top of her other work with the Association. She had great success in raising funds for the Association.
In 1990 with encouragement from the staff at Queen Charlotte's Hospital the Association became involved with setting up a specialist out-patient clinic where affected mothers could be seen by a psychiatrist within the maternity hospital. This became functional only with financial support from the Association. The clinic became operational in September 1991.
During the 1990's every summer Mrs Sarah Gutch arranged a sponsored walk around Richmond Park on behalf of the Association. This walk was a financial lifeline for the charity and often literally kept us functional during the summer months. The success of the walk was partly due to splendid support from Mrs Maija Osman who collected in a large amount of the sponsorship money.
At this time a specialist publication for G.Ps and one for Health Visitors were produced by the organisation.
In 1992 we received a charming letter from the then Archbishop of Canterbury, who wrote:
I am very happy to commend most warmly the work of the Association for Post-natal Illness. You are helping to substitute understanding for guilt, practical help for disapproval, solidarity for isolation, and hope for despair. You are turning the bad experience of some families into creative support for others. This is love in action for our neighbours: may it go from strength to strength!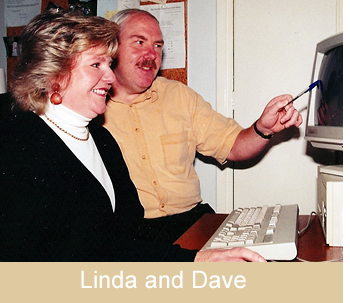 In 1993 we were lucky to recruit Mrs Linda Page and Mr Simon James who worked in the afternoon at Jerdan Place so that our office hours could be longer.
Soon after Linda arrived her husband Mr Dave Page joined us. Dave's work was so good and his support so essential that he soon became an indispensable part of our team and is happily still with us. Dave runs the Supporter's scheme, deals with Covenants and all the technical administration that forms part of our work.
In 1994 we received a charming letter and a donation from Diana Princess of Wales. She asked that we did not publicise the donation but she said that she felt our work helping depressed mothers was very worthwhile.
In 1994 Claire Rayner RGN the famous journalist and agony aunt and Sinaed Cusack the famous actress both agreed to become patrons of the organisation.
During 1994 the office was open from 10am to 5pm every weekday. We were able to staff the office during the afternoon thanks to a grant from the Department of Health.
In 1995 British Telecom gave the organisation a computer and Dave Page taught all the staff how to use it as none of us had any IT skills at the time.
There was a Panorama programme on TV about post-natal depression which gave APNI's details to viewers as a source of information and support and we also received a lot of calls following a feature on GMTV.
In the autumn of 1995 Diana Princess of Wales spoke about her episode of post-natal depression on television. The Princess had experienced severe post-natal illness after the birth of Prince Harry and she felt very strongly that more should be done to help those women who are affected. Following the Princess's interview there was a big surge of publicity about the illness and the organisation was inundated with appeals for help.
During 1996 Diane Nehme encouraged Dave Page to look into the possibility of setting up a web site specifically for the organisation. Dave started working on the information that would be needed for the site and managed to get the address www.apni.org
In 1996 Sheila Hamblett died following a heart transplant operation. All the staff and many of the women who contacted us were devastated at this loss and several members of staff attended Sheila's funeral. Sheila had diabetes and had poor health over many years. She never complained nor allowed this to affect the splendid work she did for the Association. For many years Sheila and Diane worked happily as a team in the office and Sheila is still remembered with affection to this day.
In 1997 one of the runners in the London Marathon Mr A. Newbury ran on behalf of APNI and we received a significant sum from this event.
We were very proud to receive an Award for Excellence from Post-partum Support International in 1997. The award was framed and hung in the office.
It was collected by our Charman Professor Brice Pitt who attended the meeting at which the award was announced.
Following the death of Diana Princess of Wales the Association received a number of donations in her memory.
Diane Nehme became Secretary of the organisation in 1998 and has remained so ever since despite many periods of serious ill health and numerous operations. Diane's deep commitment to the work that she does for the Association has been admired by all those who know her and work with her.