Sponsored Events for APNI
APNI relies solely on the generosity of the public to fund our charity. We are always very grateful to receive any donation however large or small and your money contributes directly to helping those suffering from post-natal depression.
Following are a few of the people who have made amazing efforts to contribute towards us. We are grateful both to these people and all those who have contributed privately. Without you we could not carry on with our work.
If you would like to help us by organising/joining in an event to raise funds please do get in touch with us.
John and Marian's Golden Wedding Anniversary
We are very grateful to John and Marian McLaughlin who have recently celebrated their 50th wedding anniversary. John and Marian are long-standing supporters of APNI. John wrote: On the first of September, my wife and I celebrated our golden wedding anniversary and with the help of our guests raised £280 for APNI.
The story behind this is that following the birth of our third child, Marian suffered from post natal depression. Back in 1987 APNI was in its relative infancy, there was not any similar charity in Scotland; not even 'Google' to ask for advice. APNI aided us. Despite being hospitalised for a month, with God's grace and the help of family and friends, the support of APNI and the medical profession, Marian made a full recovery. So to all your new clients we would say: there is light at the end of the tunnel. Our daughter is herself being married on October 13th.
Ashleigh Fisher's MK Marathon
Great achievement from Ashleigh Fisher, one of our lovely volunteers who has just raised over £700 for APNI by making a last minute decision to enter the MK Marathon. Wearing her pink APNI vest with pride Ashleigh done amazingly well and we are so very grateful to her and all who helped with generous donations.
Kirsti's Charity Twitch Stream
We are thankful to Kirsti for raising £490 for APNI with her Official Koop Charity Twitch Stream. Thank you so much Kirsti for the money you raised and we are also grateful to your subscribers for their kind donations.
Samantha's Half A Million Steps in June
We are very grateful to Samantha Cook for the £1003 she fundraised by doing Half a Million Steps in June. Samantha wrote in her JustGiving page about her story and why she has chosen APNI: I've always wanted children, my daughter was planned and on September 24th 2010 I became a mother to my beautiful little girl! The best moment of my life! She is now 10, and if I knew then what I know now, it could have been a little easier! If there were more knowledge and support, I would never have ended up so poorly! Being a mum is the best job in the world, I adored my daughter from the second I found out I was pregnant. But even though I was so happy and I loved being a mummy more than anything, I began to feel nervous, I lost my appetite, I then started to feel scared, and by the time my daughter was 5 months old I was vomiting daily with extreme anxiety, I had lost nearly 5 stones, I was having countless panic attacks throughout the day and I couldn't relax! I felt dizzy, had constant headaches, and at times I cried so much I had no more tears left. It never affected my love for my daughter, or the bond we have! She was such a happy baby, she was looked after so well and I always felt calm around her, but lots of things frightened me, I would overthink everything and I remember just wanting to hide away and keep my daughter safe! Things got worse before they got better. Because I didn't understand what was happening and other than my parents, I had NO support! Thank god for them!!! Over time, after getting a diagnosis, taking medication, having counselling and going for therapy, I finally learnt to feel calm. I was eventually able to wean off the tablets, and the weight crept back on! I started to relax and enjoy every moment of everyday again without a big knot in my tummy. I feel like the first year of my daughter's life was the best, but scariest time of mine!! I feel so sad to know that 1 in 5 women suffer with postnatal depression. I feel robbed of those precious moments that were stolen from me because I was so worried, instead of enjoying the moment! More help, more research and more support are essential for new mums. And that is why I am raising money and awareness for this amazing charity.
In Memory of Brenda Clarke
APNI Chairman, Wilson Clarke, and family have set up a JustGiving page in memory of his mother Brenda who sadly passed away in February 2021.
"Born on 5th August 1935 in Highbury, Islington, Brenda Jean was the younger of three girls. She met her sweetheart, Barry, after starting work at Midland Bank and went on to have three children of her own, who certainly kept her busy over the years. Brenda enjoyed life to the full, whether that be with her family and many grandchildren, or on plenty of holidays across the world. Sadly in 2017 Brenda was diagnosed with Lewy Body Dementia and in 2019 moved into a care home, where she passed away on 2nd February this year. When our dear wife, mum, auntie, nana and friend passed away last month, after contracting Covid19, we wanted to choose a suitable charity instead of flowers in her memory. Brenda supported many charitable causes over the years but the loss of a dear family member to acute post natal depression meant that one in particular was especially close to her heart. The Association for Post Natal Illness (APNI) helps anyone in need and provides vital, life-saving support to mothers and families, despite receiving no government funding. Brenda saw the devastation this illness can have on so many and we know that she would be happy for donations in her memory to support such an important cause."
In Memory of Professor Brice Pitt
We are very grateful to Rosalind Gerrie who created this fundraiser in memory of her dad, Professor Brice Pitt, beloved President of APNI since 2015 and was also APNI Chairman for nearly 20 years before that. Brice had a successful career in Geriatric Psychiatry, a key member of the Marcé Society and was always interested in maternal mental health. We are very grateful to Brice for his support over many years, he will surely be missed.
.
Michael Mulkerrin's Half Marathon
APNI would like to say huge thanks to Michael Mulkerrin for the £200 he raised running a half-marathon in St. Albans. On his JustGiving page, he said: "Hi all. Been meaning to try to raise a little something for a good cause for quite a while now. APNI's work speaks for itself and as I've already run the half marathon it would be great if you could help me to reach my target. Thank you and please share with anyone who might know me." Thank you Michael, we are very grateful indeed
.
Sandra Laflin's Swimming the Channel
We are very grateful to Sandra for her efforts in swimming the length of the Channel and raising £345 for APNI.
.
Barnes Charity Ball
We are very grateful to the Friends of St. Mary's Barnes for choosing APNI once again as one of the beneficiaries of their annual charity event. In February 2020, they held their 80s-inspired Barnes Charity Ball to raise funds in aid of several charitable organisations. APNI received £5000 from this event and we are sincerely thankful to the organisers and to those who attended and supported this fun evening.
Spring Grove School
We would like to thank all the children, parents and staff at Spring Grove School in Ashford for their SuperHeroic Challenge which raised nearly £600 for APNI. Superheroes indeed come in all shapes and sizes.
PELF Conference 2020
APNI are very grateful to the organisers of the Private Equity Lawyers Forum Conference, particularly Ms Rachel Fenwick, for choosing APNI as the beneficiary of their fundraising for the day which raised over £2000.
Our very own Chairman, Mr Wilson Clarke was invited to give a talk at the start of the conference held in London on the 31st of January 2020. This event's JustGiving page states: This year, the Organising Committee for the PELF Conference 2020 have determined that the official charity of the Conference will be the Association for Post-Natal Illness. Post-natal illness is a remarkably common illness, but the results can be devastating.
Sadly, NHS care in this area is not always available to the extent required and many women (and men) are dependent on charities as a result. APNI provides a wonderful service to many sufferers, offering support and advice over the phone, by email and by post.
Sometimes, just having someone to talk to can make a world of difference. As a charity that is dependent solely on donations, the only way APNI can continue to do this is with the support of the public. For that reason, the Organising Committee would ask that each Conference attendee considers making a donation to the APNI."
Judith's Great North Run
Judith Lewis raised over £300 for APNI by running the Simplyhealth Great North Run in Newcastle on 8th September 2019.
Sally's Edinburgh Half Marathon
Sally Cosham run the Edinburgh Half Marathon on 25th May 2019 and raised £155 for APNI.
Oliver's Simplyhealth 10k
Oliver Evans raised £212 through the Simplyhealth Great Bristol 10k in May 2019.
Barnes Charity Ball 2019
We are truly grateful to the Friends of St Mary's Barnes for choosing APNI as one of the beneficiaries of their 2019 Charity Ball and their very generous donation of £7,500.00. The Arabian-themed event was attended by our Chairman, David Wilson Clarke and Liz Wise, who is one of our Trustees. Truly a magical evening. (Photo credits to Andy Tyler Photography).
Thanks to Professor Chris Jackson
APNI are very grateful to Prof. Christopher Jackson who donated his fees to APNI for a session he did with Babble Talks held at the East Dulwich Tavern. Prof. Jackson, who is a Professor of Geology, spoke about his own experiences on exploring the insides of active volcanoes.
We would also like to say many thanks to Babble Talks for organising the event which was attended by lots of parents and babies.
David Wilson Clarke's Dry January
We would like to say massive thanks to our Chairman, David Wilson Clarke, for raising over £3500 in his Dry January efforts. What an incredible sum and we are very happy to see that Wilson has aced through the whole month of being totally booze-free with no problem!! Wilson wrote on his JustGiving page: "Some people challenge themselves by climbing Everest or running consecutive marathons. I however, am going to test myself by giving up alcohol during January with the aim of raising money for The Association for Post Natal Illness. I have been Chairman of APNI for the last ten years and involved with the charity since Penny died in 2004; this year will be the charity's 40th anniversary. Our charity provides much-needed support to women suffering from post-natal depression and is desperately under-funded. I know that giving up alcohol for a month wouldn't be challenging for the average person, but it will certainly test me. I am raising money to help support a charity that really makes a difference so please give what you can. Both APNI and myself would be incredibly grateful. Thank you."
Pippa Noble's London Marathon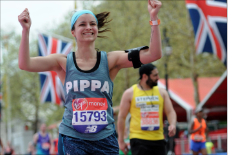 We are very grateful to Pippa for raising over £1900 for APNI at the London Marathon. Pippa suffered from PND after she had her second baby in 2016 when she described herself as 'a mess' and felt 'like such a failure'. Pippa has now fully recovered and thanks her amazing family and friends. Pippa wrote: "That's why I've chosen to run for APNI, a small charity who provides access to information, advice and support through a network of volunteers, all of whom are mums or dads who have suffered with postnatal illness and recovered. I've chosen a small charity as I want your donations to go directly to helping the people who need it most. Postnatal mental health issues truly can affect anyone. But know that things will get better and I'm living proof. Thank you so much for reading this and thank you even more if you choose to donate some of your hard-earned money to such an important cause. I know marathon day is going to be an emotional one for me and your support really will mean so much to me as I complete the course (and hopefully see some of your lovely faces along the way)."
Claire Bailey's Mt. Kilimanjaro Climb
APNI is very grateful to Claire Bailey for her fundraising effort by climbing up Mt. Kilimanjaro in Tanzania. Claire had chosen to support APNI as she knows how hard it is for small charities to get funding. Claire did not suffer from postnatal illness herself but have had her children abroad and benefited massively from baby groups and the companionship of other mums in the same position. And she thought this was even more relevant for women with postnatal illness so she would like to help support these mums and the work of APNI.
After a gruelling 9-hour climb, Claire reached the summit of Mt. Kilimanjaro and raising £954 along the way. Claire said: "Huge thanks to everyone for your sponsorship and for helping support the Association for Post Natal Illness and all the women who benefit from their work. Climbing Kili was an adventure I'll never forget and it's lovely to know that every step taken will go on to help others take small steps towards health and wellness. Thank you!"
Kate Peters' Triathlon
We are very grateful to Kate Peters for her fundraising effort by completing the AJ Bell London Triathlon. Kate finished the event at an impressive 3:06 and raised over £1,400. Kate has written on her Virgin Giving page: "On 23rd July I'll be attempting to complete the Olympic distance event at the London Triathlon. That's a 1500m open water swim followed by 40km on the bike and a 10km run. I am doing this to raise awareness of and funds for two charities – The Association of Post Natal Illness (APNI) and Samaritans. In August 2016 our second daughter was born and for the second time I suffered from quite severe post natal illness in the form of anxiety. I am lucky enough to have incredibly supportive family and friends and with a lot of help I overcame the illness for the second time. APNI provide support to mothers and their families suffering from post-natal illness, increase public awareness and encourage research into its cause/nature." Very well done Kate and thank you so much
Hilda Ho's Haringey Mums and Bubs Charity Pub Quiz
APNI staff attended the Haringey Mums and Bubs Charity Pub Quiz organised by Hilda Ho. It was a really lovely event held at The Westbury Pub attended by a good number of locals mums, dads and their babies. The pub quiz raised £280 for APNI which will help us continue our work in supporting mums out there who are suffering. Hilda wrote on her JustGiving page: "This idea of a 'pub quiz for mums' was suggested during a passing conversation with another mother and that there should be more activities aimed at mothers rather than just babies. Motherhood can get quite lonely and monotonous at times and I admit, I've had a few days here and there when I wished I could talk about anything else other than how often my son does a poo. I came across the Association for Postnatal Illness one day after this conversation and thought, wouldn't it be great if I could get all the mothers together in Haringey and help raise awareness for this service? I hope the quiz will give us the opportunity to have a bit of fun outside our current day (and night!) job and bring together a closer community of new mothers in the local area during this life changing time." Big thanks to Hilda and all the lovely families of Haringey.
Artsylum Pop-up Art Exhibition.
APNI is very grateful to our dear friend Richard Hindle and partner Candy Joyce (along with helpers Tom Joyce, Sophie Palmer, Claire Campbell, Rex Wingate, Chris Rose and Asylum) for raising £180 for us through their pop-up art exhibition called Artsylum in Chelmsford, Essex.
Artsylum got 15 local artists together on the day at music venue Asylum to exhibit art to local art fans and also raise some funds for APNI. Thank you so much Richard and Candy.
Thank you India, Maya, Imogen and Mia!
APNI would like to say huge thanks to India, Maya, Imogen and Mia, four lovely young ladies from the Lady Margaret School and Fulham Cross Girls' School for raising £236.  The girls have completed a sponsored 5k walk around Richmond Park during the Easter holidays to raise much-needed funds for APNI.  What a fantastic achievement from these young ladies, thank you so much.  The video of their walk can be viewed on our Facebook page, do take a look. Well done ladies, you were all brilliant.
Ceri Carney's "You'll Never Walk Alone" Concert
APNI is enormously grateful to Ceri Carney for organising and performing at the musical theatre concert entitled "You'll Never Walk Alone" held on 12th March.  The evening raised over £3500.  Ceri and her talented friends performed in front of families and friends at The Beck Theatre in Middlesex.  Ceri's experience of postnatal anxiety and depression happened after the birth of her little Lucy.  Ceri's aim was to help raise the profile of APNI to continue its work in helping more mums who are suffering, to let them know they are not alone.  To read more on Ceri's story, please go to our website's News Page (click here).
Lucy's 10k 10 Month Challenge
We would like to say how grateful we are to Lucy Rome for raising £1,058 for APNI.  Lucy ran 10k for each month in the last 10 months in order to raise much-needed funds for us and awareness of PND.  Lucy's PND story began in March 2006 when she had her first daughter Tehilla and suffered with post natal illness.  Lucy fully recovered and she wrote in her JustGiving page:  "It's now 10 years since I had Tehilla and she's developed into a beautiful and sensitive girl. I've gone on to have two more girls, after thinking I never would, and thankfully the depression and anxiety has never returned. I am grateful for my life, and my sanity, every day.
I hope that my experiences has helped me help others as a counsellor and I have decided to dedicate the next ten months of my amazingly normal life to remembering and helping those mothers who are suffering like I did.  I am setting myself a goal: to run 10km every month for 10 months from Tehilla's 10th birthday to raise £1,000 to help support the wonderful and tireless work that APNI do to support mums like me every day. They exist solely through kind and generous donations. "  Well done Lucy and thank you for all you do for APNI, as a volunteer and as a fundraiser.  We are very grateful indeed.
Hannah's Santa Fun Run
We are very grateful to Hannah Griffiths for completing the Santa Fun Run Loughborough and raising £215 for APNI.   Hannah said:  "I heard of APNI via JustGiving.  I wanted to raise whatever small amount I could for an organisation that supports families affected by PND – I suffered twice and thanks to understanding, learning about it and my very supportive husband I came through but I know I was lucky."  Thank you so much Hannah and very well done.
Liz Clothier's Leed Abbey Dash
We would like to say a huge thank you to Liz Clothier for raising £400 for APNI by running the Leeds Abbey Dash. Liz said: "I'm happy to be raising money for APNI. As you can see on my JustGiving page I have personal experience of postnatal mental illness. I suffered PND after my son was born 7 years ago, and was later diagnosed with Bipolar Disorder.
lizWhen my daughter was born, despite the full support of my perinatal mental health team (which many people aren't lucky enough to get) I became very unwell with severe PND and psychosis. I was admitted to my local Mother and Baby unit for 8 weeks and was under their care for over a year.
The care I received there was life saving. What shocked me was the distances some of the other women had to travel. I am in Leeds and the next nearest unit is Manchester and Morpeth. One woman had been at Morpeth and her husband was having to do 5 hour round trips to visit her and her baby. Running helps with my mental health, and I want to use it to raise money for charities such as APNI that help women in these circumstances and raise awareness of postnatal mental illness."
Jemma Howell's Shrewbury Half Marathon
APNI is very grateful to Jemma Howells for raising £395 by running the Shrewbury Half Marathon. Jemma said: "I am fundraising for APNI, as this is a charity that I feel needs to be more well known and recognised to those suffering with Postnatal depression.
I feel many people don't take this illness and depression as serious as they should, a lot of people slip through the net and there is a taboo with mental health, however it is becoming more common with people.
My older sister committed suicide last year, she was suffering with postnatal depression, this is an illness that can sometimes not be well recognised and I think that young people need somewhere and be aware of who they can turn to in a time of need. She was on the mental health act but I don't feel this was enough to help her with the difficult time she was suffering with. It has been a difficult year to come to terms with. I am running the half marathon in memory of her, it is my first half marathon I have always wanted to take part in one. But now it will mean something and I am able to raise money for APNI and for my sister at the same time."
Stephanie's Colour Obstacle Rush
APNI is very grateful to Stephanie West for raising £122 for APNI by taking part in the Colour Obstacle Rush in Windsor. Stephanie said: "I have chosen your charity as my beneficiary as I suffered from Post Natal Illness myself with both of my children, now 7 and 4. It was the hardest time in my life and I know just how terrifying and isolating it can feel to suffer from the severe anxiety I experienced. It was through talking to others and understanding the symptoms of my illness that in time, I was able to get back to being 'me' again.
Although it was a very hard time in my life in which I thought I was never going to get better, in some ways I am grateful as it has made me appreciate life so much more and I have become so much stronger because of it. The Association for Post Natal Illness is a real lifeline to women like me who have suffered at the hands of this very cruel illness. It is vital that we raise awareness and support other mums and their families as much as we can so they know they are not alone and WILL get better again." Well done Stephanie.
Lucie Malangone's London Marathon
APNI is very grateful to Lucie Malangone (nee Holland) for raising £1,900 by running the Virgin London Marathon in memory of her sister Emma, finishing in 4:40!  Lucie is one of our amazing supporters and have been raising awareness of PND as well as raising funds for APNI for a few years now.  Lucie said:  "This time last year I became a mum for the first time. Nick and I were blessed with our bundle of joy – Jasper on April 12th 2015. This month, along with celebrating Jasper's first birthday, I am running the London Marathon in memory of my sister Emma -'Emsie', who tragically didn't live to see her son's 1st birthday, nor will Jasper ever know his Aunty Emma except through photos and stories. I am so glad to have been able to continue to keep Emma's memory alive and to help other women."  Thank you so much Lucie and very well done!
Sally Rollinson-Blundell's 10K Brighton Run
We would like to say thank you to Sally Rollinson-Blundell who ran the Brighton 10k in order to raise awareness on PND and have raised £255 for APNI. Sally said:  "I think post natal illness is still something people seem to not want to talk about. I know people who have dealt with it and come through the other side. It's with the help of charities like yours."  Well done Sally and thank you very much.
Hannah Linford's London Marathon
APNI is very grateful to Hannah Linford for raising £1,780 for APNI by completing the 2016  Virgin London Marathon.  Hannah suffered a severe back injury some months ago but has worked so hard to recover physically and emotionally in order to make the marathon this year.  Hannah said:  "I would not have made it without the unquestioning support of my amazing friends, the dedication of my physio, a tonne of hard work and training, all of which has been underpinned by the loves of my life, Owain, Theo and Rowan.  Thank you all so much for sponsoring me.  I completed the London marathon with thousands of high fives and many happy memories.  What an amazing day…I couldn't be more proud! xx" Congratulations Hannah and thank you so much for all you do for APNI.
Polly Farmer's Dry February
We would like to say a huge thanks to Polly Farmer, one of our amazing Volunteers, who did a Dry February and raised £347 for APNI.  Polly said:  I am giving up alcohol for The Association for Post Natal Illness because it is a cause close to my heart".  Thank you so much Polly and well done!
Jenny Thomas' Charity Giveaway
We would like to say massive thanks to Jenny Thomas for raising £364 for APNI through her Mama's Big Charity Giveaway. Thank you Jenny, we are so very grateful for the funds as well as for raising awareness on PND.
Sarah Fairhurst's 10K Run
We would like to say huge thanks to Sarah Fairhurst for raising £500 for APNI through a 10k run in Polperro. Sarah's efforts were inspired by the story of her friend Abbi Rendell, a mother who had postnatal illness and was able to receive a Volunteer support from APNI.
Sarah wrote:  From my own personal experience of losing a child I am a great believer in mental health being as important as physical health and yet there is such a stigma around mental health that it is so often the 'elephant in the room'.
So I am very grateful for Abbi allowing me to share her story and more importantly for being able to run for her and APNI".
Laura & Sarah's 10k Run
APNI is very grateful to Sarah Wilson and Laura Combe for raising £200 by doing the Great Women's 10K Run in Glasgow in May 2015.  They finished the race in an impressive 1 hour 22 minutes despite never having ran a race before!  Sarah and Laura said that they decided to do this run in order to raise awareness of Postnatal Psychosis and raise funds for APNI because 'prevention is better than cure'.  Thank you so much Laura & Sarah and very well done.
Robin Evans' Half Marathon
We would like to thank Robin Evans who raised £489 for APNI through running the Milton Keynes Festival of Speed Half Marathon on 8th March 2015 with an impressive finish of 1:51:59. Robin said: " I chose APNI as my beneficiary as I wanted to raise funds for a truly worthy cause. Whilst the behemoth charities have a monopoly on headlines, smaller charities are working miracles on a daily basis without the recognition." Thank you Robin and well done!
Ms Suwun Cheung's Cake Sale
APNI wishes to say huge thanks to Ms Suwun Cheung and the Asia Team of Barclays Private Banking for their cake sale event raising over £910 for APNI.  This amount was matched by Barclays Bank and all of us here at APNI are very grateful for this generous donation.  Thank you so much!
Suki Gregory's Double Marathon Runs
Huge thanks to Suki Gregory for raising funds for APNI by running two half-marathons recently, Bristol on 21st September and Cricklade on 5th October, raising over £700 so far.  Suki wrote: Our friend Emma passed away in 2011 after suffering horrendously with Post Natal Illness.  Despite asking for help, the right care was not available to her. According to Freedom of Information Act responses from 193 NHS trusts across England, only 50 provide a specialist perinatal mental health service for new mothers.  Government health advisers recommended 7 years ago that such care should be made available everywhere.  Sadly, quality mental health care in the UK is a postcode lottery.
The charter for better mental health is a campaign seeking better access to specialist perinatal mental health services everywhere.  I am running to raise awareness and funding for The Association for Post Natal Illness, who are a charity which offers support for sufferers and their families.  I am running to raise awareness in memory of Emma for The Association for Post-natal Illness because 1 in 10 new mums suffer with post natal illness.
Lucy and Rob Rome British 10K London Run
APNI wishes to say a huge thanks to Lucy Rome and her husband Rob who run the British 10K London Run on 13th July 2014 and have raised £526. Lucy wrote: "I suffered from PND with my first daughter Tehilla who is now 8 years old. I was hit suddenly and unexpectedly and had a terribly traumatic time for a number of months. I was totally overwhelmed by having to look after a very young baby (she was 8 weeks when my PND started) and I was unable to sleep, eat or really function. APNI proved a lifeline and I will always be grateful that they were there for me. I help now as a counsellor and always try to talk to anyone who will listen about PND and my recovery. I have since had another two daughters and I am always grateful that I came out the other side."
https://www.justgiving.com/Lucy-Rome
Elizabeth Pearson – North Lincolnshire Half Marathon
APNI wishes to say a huge thank you to Elizabeth Pearson who did the North Lincolnshire Half Marathon on Sunday 4th May 2014 and raised £396.  Liz said:  I did the half marathon in 1 hour 46 seconds, it was  was both tough and emotional but I loved it in a mad way!!  Emma was definitely cheering me on from up above and I hope the funds I have raised will prevent any other friends or family feeling the emptiness of loosing such a wonderful person through such an awful condition. Thank you for all the great work your charity does. http://www.justgiving.com/Elizabeth-Pearson1
Suki Gregory – Boulton-on-the-Water 10k
We would like to say a big thank you to Suki Gregory who ran the Boulton-on-the-Water 10k and has raised £664.00 so far for APNI.  Suki wrote:  "In 2011, a great friend, Emma, passed away after suffering horrendously with Post Natal Illness.  Despite the help and support of her family she struggled to find professional help.  Sadly, despite one in four people in the UK suffering with a form of mental illness, like depression, there still seems to be a lack of knowledge and a stigma attached to Post Natal Illness.  It's often dismissed out of hand as 'baby blues' and isn't taken seriously.
The Association for Post Natal Illness are a charity which offers support for sufferers and their families.  They don't receive any government grants or lottery funding and exist purely on donations.  The work they do is invaluable in helping parents, be it an understanding ear or just reassurance that they are not alone".
Hannah Linford Glow in the Dark 10K 2013
APNI wishes to thank HANNAH LINFORD for raising £345 through Glow in the Dark 10K in Bedford. Hannah said  "I decided to raise funds for APNI as a number of women I have met over the last 18 months, since the birth of my second son, have struggled with postnatal illness.
What struck me was the lack of support available and how difficult it was to access. I'm sure that the work APNI does will help people like me and the women I know in the future. And if nothing else, me saying I'm fundraising for you has given some of my friends a chance to talk about the impact of postnatal illness on them. I feel very strongly that there are a lot of women who struggle on a daily basis because they aren't coping when they should be brimming with joy and that there needs to be people helping them through these things."
Daniel Wilson's Prudential London Surrey 100k Bike Ride August 2013
A huge thanks to Daniel Wilson for raising funds for APNI. Daniel said: "I'm raising money for APNI because I know they do great work for a great cause which people don't talk about nearly enough. My sister has suffered really bad post-natal depression – twice. It's such a terrible thing for new mothers and their families to go through at a time when it feels like everyone expects them to be happier than ever. So having others who have been through it and charities like APNI to help is so important."
Linsey Ridsdale – APNILinsey Ridsdale's Wales Swim 12th July 2013
APNI wishes to say a huge thanks to Linsey Ridsdale who completed The Wales Swim and raised funds for APNI. Linsey said: "The swim went really well. And considering I am afraid of deep water and have never swum in the sea, I think I did quite well surviving it. What spurred me on was knowing that I was raising money for APNI. The swim was one of the the hardest things I have ever done, but at £215 so far raised, it was more than worth it."
---
Jo Broome's Mad Hatters Tea Party 13th July 2013
"I held my annual Mad Hatters Tea Party this month and my chosen charity was APNI (in 1990 I had severe PND and the charity were a fantastic support) … Our afternoon consisted of lots of tea, Pimms and cake, a charity bingo and raffle and we raised £90 for APNI ."
Tanya Bertino's Just Walk, 11th May 2013
We would like to congratulate Tanya for completing the South Downs Walk and raised money for APNI.  Tanya said:  "It was an amazing experience. I managed to complete the 60km in 12 hours 46 mins. During the walk I was thinking of my own experience and other women who have suffered from PNI.  My children are now 12 and 14 and are so amazing and I am blessed to have been strong enough to come through to the other side.  Raising money for your charity has been my pleasure. 14 years ago there wasn't much information or awareness. I am glad to see that it is slowly changing now. Good luck and my prayers are with any mother suffering from post natal illness".  Thank you Tanya and well done!
Paul Richardson-3 Peaks Challenge 11/05/2013-12/05/2013
APNI wishes to thank Paul Richardson who completed the Three Peaks Challenge on 11-12th May 2013 in memory of their friend Debbie Spurr and raised funds for APNI.  This photo was taken at the top of Scafell Pike which is the second of the three mountains.  Paul successfully completed the challenge with an amazing three hours to spare.  Thank you Paul & Sian Richardson for your support.
Kelly Jobanputra – Bristol 10K 2013 on 05/05/2013 
"I am over the moon that I raised £490 pounds for the APNI by doing the Bristol 10k. This is a cause close to my heart as I think the work that the charity does is vital and life saving. This race was partly done in memory of the wonderful and brave Emma Cadywould but also for every woman out there that has suffered in silence with this terrible condition. I hope the funds that I raised will go towards helping many mums. Thanks to all my lovely family and friends for sponsoring me for this event. I also want to say a big thank you to my husband Vikesh and my wonderful mum and dad for how much they helped me when I was ill after my daughter was born in 2011. To put it simply, they helped me find a light at the end of a very dark tunnel. Last but not least, I want to say to my darling little daughter Mya that she fills my heart with joy every single day. If you know anyone who is suffering from post natal depression, please ask them to get in touch with the APNI by calling 0207 386 0868. Remember, your illness is temporary – you will get better. Thank you, Kell"

Debbie Curtis – Lincoln 10k run 07/04/13
APNI extend heartfelt thanks to Debbie Curtis who completed her 10k run  in 1 hour and 10 minutes. Debbie also ran with a sign supporting the APNI on her back which we hope inspires other's who would like to help us. And finaslly she also ran the entire 10 kilometres wearing a mini mouse outfit. Once again thanks for raising funds for us Debbie.
Ziggy Heath – Virgin London Marathon 2013 on 21/04/2013
Thank you Ziggy.
Hannah Woodall – Bath Half Marathon 2013 on 03/03/2013
Thank you Hannah.
Elizabeth Pearson's Half Marathon June 2012
Elizabeth Pearson ran the Scunthorpe Half Marathon on 6th May 2012 on behalf of APNI  and in memory of her friend Emma Cadywould.  So far Elizabeths run has raised £640 which is fantastic. To donate to APNI for  Elizabeth's great acheivement please click on the link below.
Suki's Half Marathon April 2012
Suki Gregory has raised over £1,000 by running the Reading Half Marathon on 1st April 2012. She has raised this money in memory of Emma Cadywould. Suki ran with her partner and did it in a splendid time. So far Suki has raised £918 with donations from sponsors. These donations included a generous £182 from Capita Suki's employer. Adding on the gift aid on these donations Suki has raised £1065-25 which is a fantastic total.
Nigel Strick's Arctic Circle Challenge 2011
Nigel's amazing achievement is something he should be extremely proud with. Braving the elements in a potentially very harsh environment he crossed 4192 miles over 8 days. As with all sponsored events APNI take off their hat to Nigel for his fantastic efforts raising over £1100.00 for APNI. Below are a few quotes from his just giving page:
Saturday, 9th July 2011
"We're home. Some fantastic memories of an amazing adventure. Epic at times, challenging at times, but something I will always cherish." Nigel Strick
4192 miles completed. 67 hours in the saddle. 8 days in the end so a day less than anticipated. Terrific sponsorship support too. Thank you for all your support and encouragement.
Nigel managed to raise £1130.00 for the APNI as well as gaining us exposure.
Thank you Everyone
Once again thanks to everyone for support and donations and if you have even half the courage of the people above please get in touch and let us know what you would like to do to for APNI as a fund raiser!!!